1-BEDROOM APARTMENT FOR SALE IN VAN GIANG ECOPARK
Van Giang high-class urban area project is one of the hottest projects at the moment. The project is located in the Southeast of Hanoi on a scale of nearly 500ha, invested by Viet Hung Urban Development and Investment Joint Stock Company. The project is endowed with nature surrounded by the Red River, creating a conditional lake with an area of 100ha. With a scale of about 1.5 ha, RUNG CO Ecopark Van Giang apartment building has an airy design, promising to bring the fullest and most integrated life.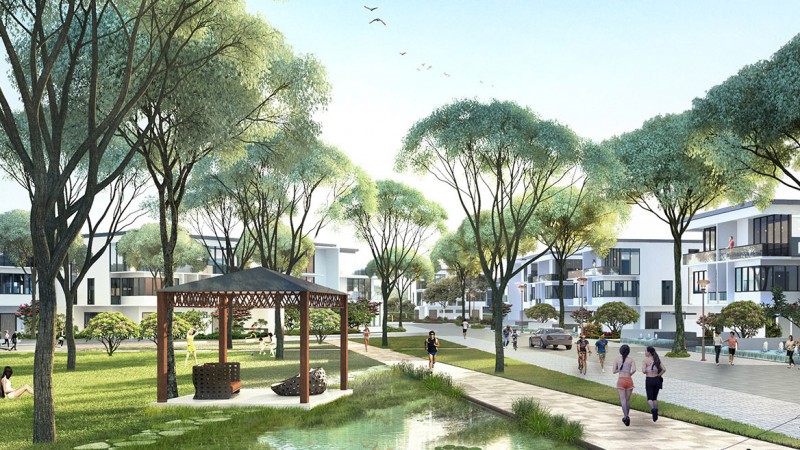 Types of apartments in Ecopark urban area:
Rung Co Ecopark apartment building is designed into 5 main areas: A, B, C, D, E. With 13 apartment buildings from 19-25 floors high are designed in a modern style and in harmony with nature.
- 3 buildings with a height of 19 floors
- 6 buildings with a height of 22 floors
- 4 buildings with a height of 25 floors
Design of Ecopark 1 bedroom apartment:
The apartment building was designed by Kume Sekkei - Japan's leading designer. The apartments are intelligently designed to optimize the area and close to nature with large, airy balconies... Direction and landscape are all arranged to create the most unique and vivid views for the space used.
With a total of nearly 1500 luxury apartments, each floor consists of 6 spacious apartments, various utilities followed by the international standards with 2 - 3 bedrooms (70.9 to 91.m2) to high-ranking luxury apartments such as Skyvilla (154m2) or Penthouse (163.5m2 to 178.8m2)
About the interior:
The interior of this apartment complex is fully equipped with essential items such as: wooden floors and plaster ceilings for all rooms, the kitchen is provided with the most essential equipment, for example, kitchen cabinets and doors are made of high quality fireproof natural wood.
High-class facilities at Ecopark Van Giang project:
In parallel with the completion of the apartments, the investor also creates high-class amenities such as hospital, primary school, commercial area, swimming pool, tennis court, children's playground...
In order to best serve the learning needs of residents in the project as well as in the surrounding areas, the investor would like to build the healthiest and most advanced education system from preschool to university with the same level of International and regional. University level will have British schools in Vietnam, Tokyo Medical University Vietnam and high school level with Doan Thi Diem School.
The Ecopark apartment complex is planning to develop a general hospital in the future, go along with diverse modern equipment and a team of specialist doctors with an investment of $2 million, Ecopark General Hospital will definitely be a reliable healthcare place for the residents.
In addition, the investor puts into operation high quality free bus routes to serve the residents here as well as the visitors.
Therefore, with the convenient services and diverse types of apartments, Ecopark apartment complex promises to be an ideal place to live for households, providing attractive investment opportunities for the investors.